Mohs Micrographic Surgery
Treatment for Basal Cell Carcinomas and Squamous Cell Carcinomas
Mohs surgery is the most effective technique for removing Basal Cell Carcinomas and Squamous Cell Carcinomas. These are the two most common skin cancers.
Mohs Surgery has a very high cure rate of 98% which is significantly better than other excision methods. Using the Mohs method, cancer cells are mostly removed while sparing the greatest amount of healthy skin tissue.
Why is Mohs Surgery the most effective method?
Microscopic examination of all excised tissues occurs during rather than after the surgery
It eliminates the need to estimate how deep the roots of the skin cancer go. This allows the Mohs surgeon to remove all of the cancer cells while sparing as much normal tissue as possible.
Mohs surgery eliminates the guesswork in skin cancer removal, producing the best therapeutic and cosmetic results.
Basic Guide of Mohs Surgery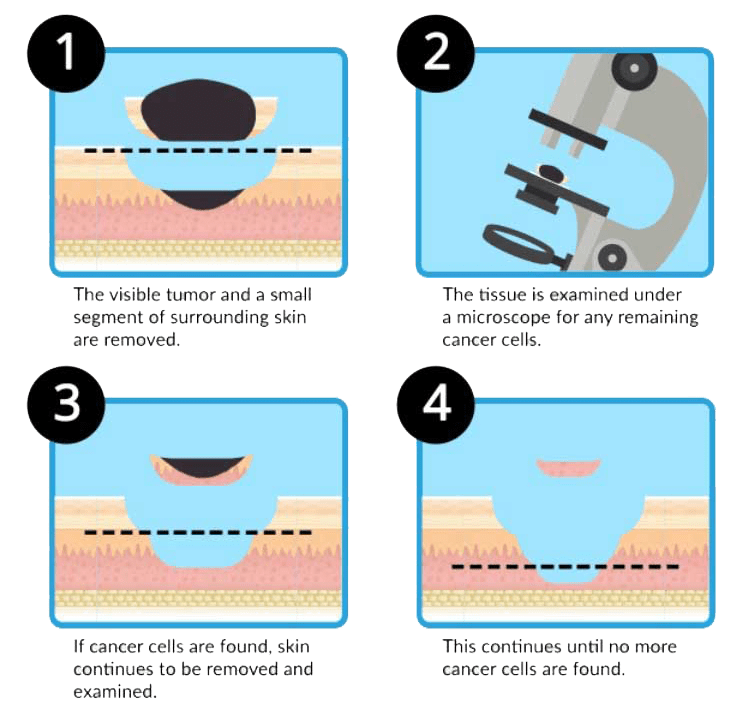 What occurs during Mohs Surgery
Surgical Oncology – Surgical removal of tissue from the affected area. This procedure is performed at all our Luna Dermatology  office locations under local anesthetic.
Mapping the piece of tissue, freezing and cutting the tissue between 5 and 10 micrometers using a cryostat, and staining with hematoxylin and eosin or other stains including Toluidine Blue.
Pathology – Interpretation of microscope slides is completed to examine the sections for cancerous cells.
Removal of Cancerous tissue & Reconstructive Surgery – If cancer is found, its location is marked on the map (drawing of the tissue) and the surgeon removes the indicated cancerous tissue from the patient. This procedure is repeated until no further cancer is found. It's possible that  reconstruction of the surgical defect may be required.
After care
Once all the cancerous tissue is removed, Dr. Bair will discuss your options for how to let the would heal. Situations vary but typically, the following will occur after surgery:
Have stitches applied to close the wound or let the incision heal by itself.
A flap of skin may be taken from a nearby portion of your body to help cover the wound.
A skin graft may be taken from another area of your body to cover the wound.
The wound will be temporarily closed and reconstructive surgery will be scheduled for a later date.
You may have discomfort, bleeding, redness, or swelling after Mohs surgery, but these irritations should go away on their own. Dr. Bair will give you instructions on how to clean the wound and about any medicine you need to take.
Our Mohs Surgery Locations
Book your Appointment
Fill out the form below and we'll be in touch within 24 hours.