Sclerotherapy
at Luna Dermatology
The Hudson Valley's Premier Boutique for Sclerotherapy Treatments.
Say Goodbye to Spider Veins
If you have thin red, purple and/or blue blood vessels that are twisted and visible through the skin (also called spider veins), you are not alone. More than 30 million Americans are estimated to have this condition.  
The good news is that here at Luna Dermatology we offer an FDA-approved, noninvasive procedure called Sclerotherapy to treat spider veins. This is a well-tolerated, non-surgical procedure that typically provides excellent results with no down time. Even better, we do the treatment right here in our offices in the Hudson Valley. Want to learn more? Read on to discover more about spider veins and how sclerotherapy is used to treat them.
What Causes Spider Veins? ?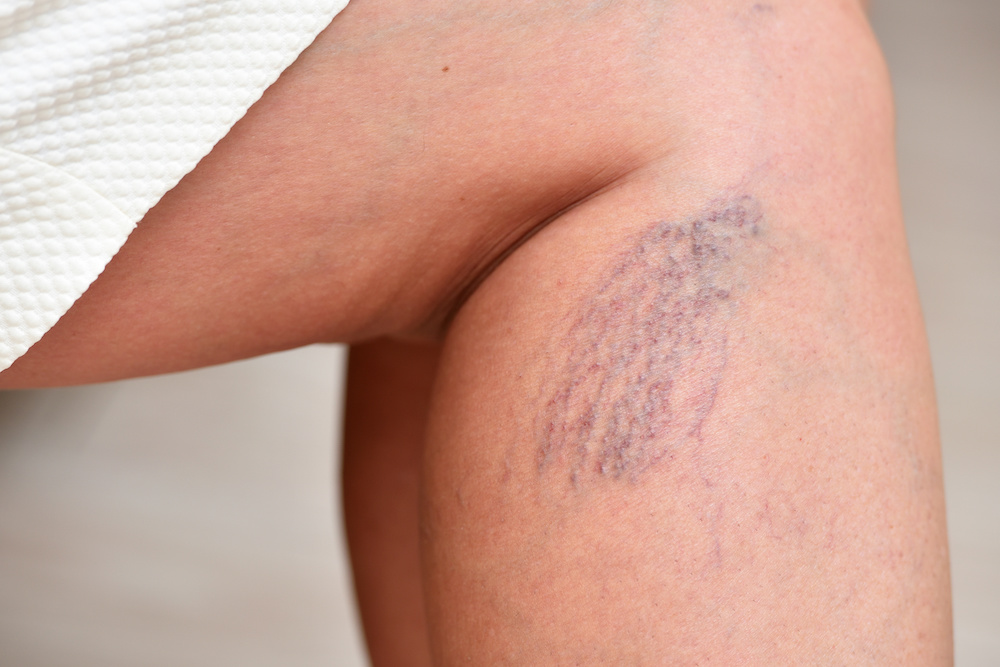 Spider veins (also known as "capillary veins") are extremely thin veins located at the surface of the skin that create a spider-like appearance, with thin "legs" running outward from the center. Unlike varicose veins (which are larger and thicker) spider veins rarely cause discomfort to those who have them but often cause frustration over their cosmetic appearance. 
Spider veins are the result of damage to the blood vessels, which may occur due to a number of factors including injury to the skin, changes in weight, pregnancy, and long periods of sitting or standing; all of which can cause pressure to build at the site in question. Ultimately, if the valves in our veins weaken, become damaged, or burst, the blood may struggle to flow in the right direction, causing it to pool in the vein. Over time the pool branches out, resulting in the vein's spidery appearance.
Where and How Do Spider Veins Appear?
Spider veins can appear anywhere on the body but are most commonly found on the legs, abdomen, and face. The veins are typically bright blue, red, or purple and tend to appear in clusters of thin lines which may cause a "flushed" appearance in the affected areas.
Please note that spider veins are not to be confused with varicose veins, which are larger, thicker, and more likely to cause discomfort and other medical issues for those who have them. Varicose veins bulge out from the surface of the skin and appear swollen, lumpy, or tangled. If you are unsure which type of venous issue you have, we recommend making an appointment with us for further analysis and a discussion of treatment options.
What is Sclerotherapy and How Does it Work?
Sclerotherapy is a highly effective, time tested treatment for spider veins that has been around since the 1930s. Among dermatologists it is known as the gold standard for venous treatments. 
Here at Luna Dermatology, Sclerotherapy involves injecting the targeted veins with a small amount of solution called Asclera®, which causes the treated vein to seal shut and fade from view over time. The treated vein is then naturally reabsorbed by the body. Moreover, studies show that Sclerotherapy not only improves the appearance of spider veins, but also improves circulation in the treated area as the body naturally reroutes blood flow to healthier veins.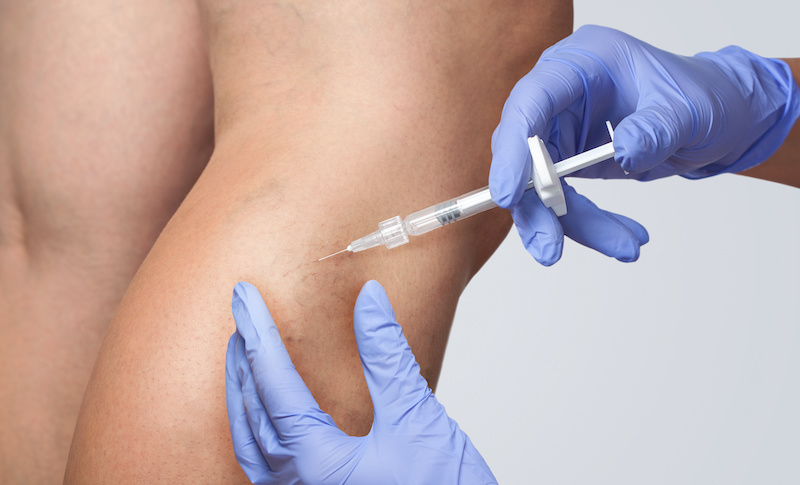 Asclera® has been used in Europe for more than 50 years and was approved by the FDA for use in the United States in 2010. According to a number of surveys, nearly 90% of patients are either satisfied or very satisfied with their treatment results after receiving this sclerotherapy treatment.
Some patients may require several treatment sessions, depending upon the complexity of the vein, location, and the number of veins requiring treatment. That said, it is a minimally invasive, in-office procedure that is known to be safe on the body and does not require any significant recovery time. While each person is different the treatment itself typically only takes 15 – 30 minutes, and we perform the procedure in both our New Paltz and Kingston offices. 
Please note that Asclera® injections are contraindicated (not recommended) for patients with a known allergy to polidocanol and patients with acute vein and blood clotting diseases. The treatment is also not recommended for women who are pregnant or nursing.
Q: What Should I Expect After Treatment?
A: For starters, you should expect better circulation and improved appearance of the veins and skin in the treated area. Some patients may experience mild side effects such as minor to moderate bruising or inflammation after the procedure is completed, but these typically fade within one to two weeks.  
You may resume normal daily activities immediately and light exercise such as walking is encouraged. Heavy, strenuous exercise should be avoided for one week. Hot baths, hot tubs and saunas should be avoided for one week. Air travel should be avoided for three weeks as the changes in air pressure are not optimal for post-procedure healing. You will be instructed to wear compression socks or compression bandages for about 10 days following the treatment and we will schedule a follow-up visit to check in on your progress.
Q: Is Sclerotherapy Right for Me? How Can I Schedule an Appointment?
A: We recommend scheduling an appointment with our office to assess the veins in question and determine the appropriate treatment options. We have two convenient locations in the Hudson Valley / Ulster County, and we see patients five days a week.
You can book an appointment online by choosing one of the office buttons below. If you prefer to email or call, please feel free to email us at: frontdesk@lunadermatology.com, or call us during normal office hours at 845-419-2899.
Say Goodby to unsightly spider veins 
Schedule an appointment for your consultation today!
Still have questions for Dr. bair or about sclerotherapy? Email us!